A Definitive Guide to Social Media Marketing – Facebook SMM is a tutorial cum and guide to social media marketing involved in Facebook. Social media platforms have become one of the most important players in the marketing business.
From blogging to sharing of the content to an understanding of the social media metrics and following the social media best practices, it's very important. One must possess knowledge of those platforms if they are willing to market their business to the audience.
A Definitive Guide to Social Media Marketing – Facebook SMM, includes not just the basic information of the SMM its introduction but also has the step by step process of creating your own business page and running your first campaign.
This tutorial cum guide contains the Facebook best practices and is not just for the beginners for also for the experts. It includes the latest updates of the Facebook and several new features added on it with the updated Facebook algorithm.
Here is the Table of Content (TOC) for the: A Definitive Guide to Social Media Marketing – Facebook SMM
Introduction: What Is Social Media Marketing?
Understanding the existing Social Media paradigms & psychology
Facebook marketing
     -Who's On Facebook?
     -How Can You Market on Facebook?
      -Pages
      -Ads
      -Groups
How to Market with Pages(organic Facebook marketing)
     -How to create a Facebook business page:
How to optimize your Facebook Page
     –Add a call to action
      -Add a pinned post
      -Make the most of tabs
      -Like other Pages
      -Review your settings
      -Learn from Page Insights
Marketing with your Facebook page
      – Find The Right Content Mix For Your Audience
       -Get To Know Your Facebook Insights Inside And Out
       -Use Visual Marketing As Eye Candy To Stand Out In The News Feed
       -Show People You're Listening And Paying Attention
       -Recycle Your Evergreen Content
       -Be Strategic About Your Posting Times
       -Plan Your Content In Advance
       -Consider Posting More Than You're Posting Now
       -Post-Audience-Tested Content
Facebook advertisement
Facebook Advertising Overview
How to Setup Your First Facebook Ad Campaign
Facebook's Ad Manager
Facebook Remarketing and Custom Conversion
Custom Audience
Optimize Your Facebook Advertising Strategy and best practices
      -Choose the Right Target Audience
      -Testing Different Facebook Ad Types
      -Tap Into the Power of Facebook Remarketing
      -Running Budget-Friendly Facebook Advertising Strategy
      -Testing Your Ads
Introduction to Edge rank
      How EdgeRank Works
Algorithm updates of Facebook
What Is Social Media Marketing?
Social media marketing is the process of gaining or acquiring traffic or attention through social media sites.
Social media marketing is the process of gaining or acquiring traffic or attention through social media sites. Social media platform is a catch-all term for sites providing radical different social actions. For example, Twitter is a social site intended to give individuals a chance to share short messages or "updates" with others. Facebook, interestingly is an out and out long-range social networking site that takes into account sharing updates, photos, joining events and a variety of different activities.
Social media frequently feeds into the discovery of new content, for example, news stories, and "disclosure" is a search activity. Social media can likewise help build links that in turn bolster into SEO efforts. Numerous individuals additionally perform searches at social media sites to discover social media content. Social connections may likewise affect the importance of some relevant search items, either within a social media network or at a 'standard' search engine.
Understanding the existing Social Media paradigms & psychology
Social Media Marketing is a rising field of study and practice whose continuous advancement will influence how products and services are sold for an unprecedented period of time. Social Media is characterized as "as a form of electronic communication platform (a website or portal for social networking and microblogging) through which users make online networks to share data, thoughts, personal messages, and other contents."
Websites, for example, Facebook and Twitter are sites that enable users to interact and communicate with each other within a second through the internet. To get a comprehension of how prominent social media networking is, there are presently more than 500 million users on Facebook alone, and more than 250 million of those users get to Facebook through a mobile device. Marketing and Promotion, i.e the act of one party requesting the trading of a decent or benefit with another party, has been around longer than we have been Homo Sapiens.
It is an inherent piece of developmental science and how biological systems develop and support themselves. Shoppers are presently more conscious of traditional marketing ploys and are effectively getting some distance from them in lieu of more dynamic types of news and media. Companies never again have a similar control of a given industry now.
This is causing changes on each level of business, for both B2C to B2B organizations. Organizations need to move from a product pushing model to that of a buyer association based model and offer/create content that is pertinent to these purchasers.
Facebook marketing
Facebook is much bigger than what we can fathom. As one among the largest social networking site in the world, having more than 1.23 billion active users, 62% of whom are the daily based users.
Think about this:
Facebook journey from being unknown a little over a decade ago to such common household name to billions of people, using it today. Has there ever been a success like Facebook? Adding on that momentum, perhaps there wouldn't be anything that would be stopping it.
Well, Probably not. Facebook is here to stay with us for a longer. Even after going through a hard time of Cambridge Analytica.
Having such a larger user based platform, ignoring Facebook would be a mistake and to be honest it wouldn't be so easy. You can easily realize that your ideal market is using Facebook on daily basis. The only question that comes is: How do you target that audience with your marketing?
The interesting thing is that Facebook advertising platform allows you to barge in and lets you target the audience that you are looking for. It can be based on location, demographics, and interests.
In this guide, we will show you and let you explore the basics of how to use Facebook to your advantage. This guide is basically aimed for the beginners who want to gain a complete insight on introduction into marketing their businesses in the worlds largest social media network.
Who's On Facebook?
Facebook initially started out as a social media networking site for college students, but then after the accessibility of the internet, it is being widely used by all. The minimum age requirement for joining it is 13, and hence, there's a reason to believe that it is being used by all other age groups.
Facebook generally never leaks data on their most popular age group, (However, a concerns being raised on leaks of users data) but according to the survey by Pew showed that social networking is mostly followed within the age group of 18-19. It is least popular with those 65 years and older.
We can assure you that, no matter whatever the age group you may be targeting, there will definitely be more than enough users on Facebook.
How Can You Market on Facebook?
Facebook has got three tools (pages, ads, and groups) that are accessible to anyone. Each of these options serves its own purposes, and those can be combined for greater reach.
Pages
Facebook pages are much similar to profiles but are meant or built for businesses, organizations, and public figures. Users can easily "Like" a page, which means they will be automatically receiving an update from that page in their news feed. Users also have also got the option to "Like" a page but not follow it. (Same goes with the profile too, users also can follow some profiles.)
A Facebook profile requires a mutual relationship between friends, whereas pages can be liked by anyone, without the need of the admin of the page or creator to accept the fan (Unless it's a closed group). They also don't have limitations on the number of friends/fans, one can have numerous (except profiles, which are limited to 5,000 friends)
Advantages: Pages are absolutely free and very easy to set up.
Ads
Facebook offers a fantastic targeted advertising platform. You can create ads targeted at specific geographic areas, ages, education levels, and even the types of devices used for browsing. Facebook also lets users close ads they don't like and "Like" a page right beneath an advertisement:
Facebook offers an amazing and fantastic targeted advertising platform. You have the options to create targeted ads based on geographic areas, ages, education levels, and even on the types of devices used for browsing. Facebook also gives users the liberty to close the ads they don't like and "Like" a page beneath the advertisement.
Advantages: Ads have got powerful targeting parameters and give more reach than organic.
Groups
Facebook groups are similar as that to discussion forums, provided with additional features that pages and profiles have (like a wall). You can easily create groups open or closed related to your industry or product renderings as a way to reach out to your potential or targeted customers.
Advantages: Groups are absolutely free and bring high levels of engagements depending on the type of content.
How to Market with Pages(organic Facebook marketing
Facebook pages are one of the simplest and basic of its kind. The easiest way to get your marketing to get started with. They are relatively free and easy to set up ( in their basic form) and highly flexible. There isn't much of a downside in it.
How to create a Facebook business page:
Click on the Create a Page in the top right-hand corner of the menu. You will be shown several business type options including local business or places, brand or product, and cause or community. Select with type f business page you want to create for. If your business type is falling into more than one of the category options served, then choose that one your customer who is most likely going to think of about your business is about.
When you have clicked on the business type,  a dialogue box will appear asking for further details, like the name of your business your address, and your Page category.  Categories are essentially the subtypes inside the larger business categories that you have already chosen. When you will first start typing in the category field, you would see a list of potential categories option that you can opt from.
When you're ready, click on  Get Started. An important Note, doing so will be indicating your acceptance of Facebook's terms and conditions and policies for the Business Pages, so you should check those prior before proceeding further.
Step 2. Add Pictures
Further to that, you will be uploading a profile and cover images for your Facebook Page. It's very important to create an eye-grabbing good visual for the first impression, so choose that wisely here. Make sure that the photos you have chosen must align with your brand and are easily or conveniently identifiable with your business.
You'll upload your profile image first. This image accompanies your business name in search results and when you interact with users, and also appears on the top left of your Facebook Page.
If you happen to be a bigger brand, using your logo as the image would probably be the safer way to opt. If you are a celebrity or a public figure your photo or face will work like a charm. And if you happen to be a local business, most probably a short image signature of your offering will allow a potential customer or followers to make the connection instantly.
Once you've chosen a good image, click on Upload Profile Picture.
When you're done with profile picture, then it's time for the cover image, the most important and crucial image of your Facebook Business Page. The image captures the essence or elegance of your brand conveying your brand personality. It displays at 820 x 312 pixels on the desktop or 640 x 360 pixels on mobile devices. The image must be at least 400 pixels wide and 150 tall.
Once you've selected an appropriate image, click on Upload a Cover Photo.
Step 3: Explore your new Page
Ta-da! Your page is alive, albeit it extremely sparse. At this point, you'll be prompted to take a quick walk-through of a few features. Until and unless you're already well aware or have sound knowledge of how Facebook Business Pages operate, we would highly recommend on clicking through the prompts, just for you to know where everything is. It will only take a few seconds.
Step 4: Add a short description
This is an opportunity to convey your message to people about your business. It should be completed in just a couple of sentences (maximum 155 characters), so there isn't much need to elaborate here. Click on Add a Short Description, and share what your customers need to know as clearly and precisely as possible. You can add a longer description later on.
Click Save when you're done.
Step 5: Create your username
Your username is also called your vanity URL, is about how you'll tell people or your audience where to find you on Facebook. Your username can be up to maximum 50 characters long, but refrain using extra characters just because making it easily understandable and recognizable. You would better want it to be easy to type and easy to remember for your customers. Your business name or some obvious variation of it is a safe bet to make it unique.
Click on Create a Username for Your Page to set up your vanity URL.
Click on Create Username when you're done creating it.
Step 6: Complete your about section
While you might be tempted to leave the details for later, it's important to fill out all of the fields in your Facebook Page's About section right from the start.
To get it started, click on About in the left-hand menu of your Facebook Page.
From this screen or point, you have access to add or edit your specific business details, like your start date, contact information, and other social accounts. Depending on the type of business, you may be able to add specific details like information ora menu about your price range, also, whether you offer valet parking or not.
This is also the screen where you the option to add a longer description of your business. Click on Edit Story on the right-hand side of the Page to provide a detailed description of about what your business is offering to customers and why they should Like or Follow your Facebook Page. This is a great platform for a marketer to build expectations regarding how you are going to interact with your fans through your Facebook Page for the business purposes and providing them compelling reasons to engage with you online.
When you're done, click on Save Changes.
Step 7. Create your first post
Before you start inviting people to like the Facebook Page for your business, you'll want to make sure you share some valuable content. You can create some of your own posts, or share relevant content from thought leaders in your industry.
You can also create a more specific type of posts, like an event or product offerings—just click on through the tabs at the top of the status box to bring up all the options for the events and product offerings.
Make sure that whatever you post offers value for your visitors when they arrive at your Facebook Page, so they'll be inclined to stick around.
Step 8: Start engaging
Well, now you're completely ready to give your Facebook Business Page a bit of a nudge and make noise. Invite your families and friends to like the Page. Use other channels, like your website and Twitter, to promote it. Add "follow us" logos on your promotional materials and/or email signature. If you're comfy with it, you also can have a customers review you on the Facebook page, too.
How to optimize your Facebook Page
Now that you've got the basics of how to set up a Facebook Business Page in place, it's time to think about ways to optimize your Page to maximize engagement and meet your Facebook marketing goals.
Add a call to action
There would be hundreds of reasons as to why people visit your page, and you might not be able to provide them all the information they require right on your Page. But you can definitely provide them with a way to get it by setting up a call-to-action (CTA) button.
Facebook's built-in CTA button makes it virtually facile to provide the consumer what they're actually looking for, that even includes allowing them to engage with your business in real life and time.
By default, Facebook adds a Send Message button, encouraging the visitors to contact your business through Facebook Messengers. But you can change this feature to allow visitors to learn more about your business, shop, download your app, or even book an appointment.
In order to customize your CTA, hover your mouse over the Send Message button on your Facebook Page, then select the Edit Button. Then choose the type of button you want, select the specific message or text to appear on the button. When you're done with your choice, click Next.
Depending on the button you have chosen, you may be asked to select some more additional options. When you're done, click Finish and your call-to-action button will go live on your page.
Add a pinned post
A pinned post sits or is fixed at the top of your Facebook Page, just underneath the cover image, so it's a great place and opportunity to put an eye-grabbing post that will draw your audience in and make them want to stick around.
Start it by either writing a normal post or scroll down your feed to find an existing post that you want to pin to the top of your Page. Click on the three dots on the top right of the post, then click on Pin to Top of Page.
Once you've pinned the post, you will be viewing a blue thumbtack icon in the top right corner.
Make the most of tabs
Tabs will appear on the left-hand side of your Facebook  Page and will include standard options such as the About section and photos. You can also take your Page to the next level by adding more or other tabs and apps that would enhance the user experience.
Like other Pages
Facebook is, after all, a social networking site, it would be a good idea to use your Page towards building a community for your business rather than simply viewing it as simply an extension for your online presence. One of the best ways to build community would be is to feature other Pages that are relevant to your business but not competitors.
Review your settings
Your Facebook Page settings allow you to get into some pretty fine details about who can administer the page, where the page is visible, words banned from the page, and so on. You also can also view and gauge how fans are interacting with your Page and posts, including who has favorited it, and even more.
Take a few minutes to go through each setting and make sure that it's optimized for how you want to manage the Page and how you want your audience to interact with you.
To access the settings, just click on Settings at the top right side of your Facebook Page.
It's very important to check your settings regularly, as because your preferences and requirements might change as your business— and social following—grows.
Learn from Page Insights
The more information you gather about your audiences, the more content you will be able to create in satisfying their needs. Facebook's Page Insights makes it even more easy to collect data regarding how your fans are interacting with your Page and the content that you're sharing.
Marketing with your Facebook page
1. Find The Right Content Mix For Your Audience
It's very important to choose the right mix and set of content and then post it in the right order. In other words, you should post the right content to the right audience at the right point of time.
2. Get To Know Your Facebook Insights Inside And Out
Test your content regularly. Dig into your Facebook Insights often. Get to know each page of your Page Insights inside and out.
3. Use Visual Marketing As Eye Candy To Stand Out In The News Feed
As a professional marketer, you must already be knowing the power of using photos on Facebook. Facebook posts with images usually get 2.3 times more engagement than those of without images.
There are numerous ways to use visual marketing to grow your Facebook page:
Create branded quote images.

Pull important tips from your blog posts and put them on images.

Use some powerful imagery to develop thought leadership in your niche.

Use visual marketing as eye candy to stand out in the news feed to seek the attention.
4. Show People You're Listening And Paying Attention
Nobody would like to visit a Facebook page, leave a comment, and then hear crickets. Instead, they would wish to feel special!
Real people would definitely like to connect with other real people. They want to know whether you're approachable or not. Most of all, they want to know whether you're paying attention to your page or not.
Once they are assured that you're listening, they'll be more likely visiting your page and engage with your content repetitively.
When someone takes the time to interact with your page and give a response, acknowledge it. Even if all you do is "like" their comment, you've still acknowledged it and responded them.
5. Recycle Your Evergreen Content
If you're focusing to increase your Facebook organic reach, this is important! It's one of the cornerstones of our 193% page growth.
Evergreen content is the content that you create that and never gets old. It stands the way it is and still engaging.
6. Be Strategic About Your Posting Times
There have been numerous opinions regarding the best posting times on Facebook.
The way we see it at on Post Planner, nobody actually knows the best times to post on your page except you. You are the one (admin) with the access to your Insights.
Posting at the right time possibly mean the difference between or inversely proportional to going viral and not being noticed at all.
7. Plan Your Content In Advance
If your audience starts losing interest on your page, you'll eventually lose your ability to increase your Facebook organic reach.
That's why it's very crucial to plan your content in advance. If you strategically plan and schedule your content ahead of time, for each piece of content you post you will be benefited.
8. Consider Posting More Than You're Posting Now
We must focus on increasing the post frequency from the existing state. It is very important for the growth of the page. If there is more sharing means more growth for the page.
9. Post-Audience-Tested Content
Often you can post audience-tested (proven) content on Facebook, you'll be setting up a path for yourself towards success.
If a piece of content has already been successful on Facebook once, then there's a possibility that, it will be successful again.
Facebook advertisement
Since Facebook gets a lot of data from their users, who enters it voluntarily on their profiles (things like location, age, and interests), they have collected a good idea of who the users are and what they like and prefer.
Therefore, they can serve them targeted ads which shows them the products that are likely to buy, sites they like to visit or events they'd love to attend.
There's also a unique "Like Page" button (CTA), in the top right corner, that's usually not visible on regular posts.
At last! unlike your regular news feed items, all Facebook ads have a call-to-action (also called a CTA), in the right corner at the bottom, which might say any one of the following things:
Learn More
Sign Up
Download
Contact Us
Shop Now
Book Now
Apply Now
Watch More
Facebook has a predefined by a default set of CTA buttons.
So, remember, you can easily spot Facebook ads by paying attention to these 3 things:
A "sponsored" tag, below the name of the website

The prompt or action to like the page in the top right corner

A call-to-action (CTA) button in the bottom right-hand corner
Facebook Advertising Overview
There are 5 types of Facebook ads:
Inside the news feed on desktop

Inside the news feed on mobile

Right-hand sidebar on the desktop

Audience network on mobile

On Instagram
Placing an ad in the news feed or on the right-hand column is pretty obvious, but what actually does an audience network ads looks like?
These ads are generally placed on regular sites, inside apps or in games.
There's a 'hierarchy' to help and organize as to how you manage everything. Here's how it is:
Account

:

It holds all of the campaigns, ad sets, and ads. Generally, you'd manage a single account for your business.

Campaigns

:

An individual campaigns can be easily created anytime for almost anything and everything. Some may be for particular products or services. While others might be merely for driving traffic back to your website. (In reality, you want both. As we'll discuss soon.)

Ad Sets:

 

Exactly what its name sounds like. Useful for organizing and maintaining different groups or categories of ads.

Ads

:

Lastly, all of the ads. This is the only part that people would see eventually.
How to Setup Your First Facebook Ad Campaign
1. 

Click on the drop-down button on the top right-hand corner of your Facebook profile and then click on Create Ads
2.
Choose an objective:
Facebook's Ads Manager, like many other social media advertising networks, is designed in a manner to line up with campaign keeping the objectives in mind. Before getting started, Ads Manager will prompt you to choose an objective for your campaign:
There are as of now 11 different objectives to choose, from the ad manager. The list comprehends everything from visiting people to your site to getting installs of your app to raising attendance at your events created. 
By choosing any one of those objectives, you're giving Facebook a clear idea of what you want to do, so they can serve you with the best-suited and custom ads-options. Facebook's ads-options include:
Brand awareness
Reach
Traffic
Engagement
App Installs
Video views
Lead generation
Messages
conversion
catalog sales
Store visit
3. 
Choose your audience
Facebook's built-in targeting is vast, including options such as:
Location
Age
Gender
Languages
Relationship
Education
Work
Financial
Home
Ethnic Affinity
Life Events
Interests
Behaviors
Connections
4.
Set your budget:
Facebook offers advertisers the convenience an option to set either a daily budget or a lifetime budget. Here's how they're different from one another:
Daily budget.

 If you are willing your ad set to run consistently throughout the day, then this is the option you'll want to opt for. Using a daily budget means that Facebook will cap your spending per day as per the daily set budget.

Lifetime budget.

 If you're willing to run your ad for a particular duration of time, then you should select the lifetime budget. This means that Facebook will use your spend over the time period that you have set for the ad to run. 
To further specify your budgeting, turn on to the advanced options. This section will allow you to specify a few things:
5.
Schedule
Choose whether or not you would want your campaign to run instantly and continuously or if you would want to customize or set the start and end dates. You can also set certain parameters so that you can run your ads only during specific hours and days of the week.
6.
Optimization & Pricing
Choose whether or not you would like to bid for your objective, clicks, or impressions. (This will differ on how your ad will be displayed and paid for.) By doing so, you'll be paying for your ads to be shown to people within your targeted audience who are more likely to complete your desired set of action, but Facebook will eventually control what your maximum bid is.
If you're not willing Facebook to set optimal bids for you, you should better opt for manual bidding. This option offers you the full control and access over how much you're willing to pay per action or click completed. However, Facebook will always provide a suggested bid based on other advertisers' behavior and action to give you a sense of what you should shoot for and bid for. 
7.
Delivery
Delivery type falls under two categories: standard and accelerated. Standard delivery means it will show your ads throughout the day, while accelerated delivery means it will help you reach an audience quickly for time-sensitive ads (Note: this option needs manual bid pricing).
8.
Create your ad.
How do you want your ad to look like? Everything depends on your original objective. 
If you're willing to increase the number of clicks to your site and increase the traffic, Facebook's Ad Manager will suggest the Click to Website ads-options. Making sense, right?
Now, this ad option is broken down into two formats: Links and Carousels. Essentially, this includes either you can display a single image ad (Links) or a multi-image ad (Carousel) with three to five (3-5) scrolling images at no additional cost and many more.
A Links ads will be displayed like this:
A Carousel ad will be displayed like this: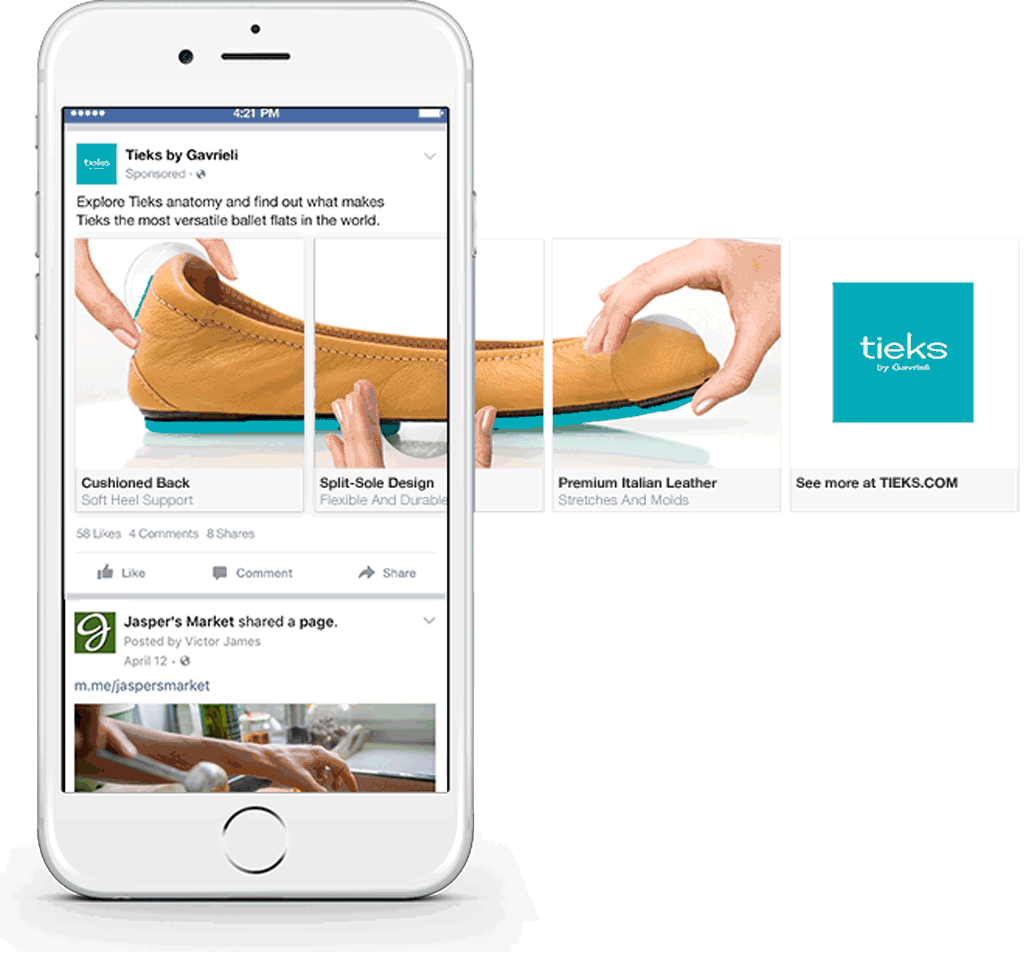 Once you have decided between the two, you need to upload your creative assets. It's very important to note that for each type of ads, Facebook needs users to follow certain design criteria.
For single image ads, they would ask users to adhere to the following criteria:
Text: 90 characters

Link Title: 25 characters

Image ratio: 1.91:1

Image size: 1200 pixels x 627 pixels. (Use a minimum image width of 600 pixels for ads appearing in News Feed.)
For multi-image ads — also known as Carousel Ads — Facebook provides the following design criteria: 
Recommended image size: 600 x 600 pixels

Image ratio: 1:1

Text: 90 characters

Headline: 40 characters

Link description: 20 characters

Your image may not include more than 20% text.

 
Desktop News Feed
Mobile News Feed
Desktop Right Column
Facebook's Ad Manager
Facebook's Ad Manager is an advanced dashboard providing users with an overview of all of their campaigns run.
The dashboard showcases an estimate of how much you're incurring or spending each day. The dashboard is systematically organized by columns, making it easier to filter through your ads so that you can easily create a custom view of your results. Key numbers like a reach, frequency, and cost are instantly available, making the reporting on performance a no-brainer. 
Here are some of the important key metrics to look for Performance. 
Results – It is the number of times your ad has achieved an outcome or result, based on the objective and settings you have selected.
Reach – It is the number of people or audience who has seen your ads at least once. Reach is different from impressions, which may include multiple views of your ads by the same people.
Impressions – It is the number of times your ads were on screen.
Cost per Result – It's the average cost per result from your ads.
Amount Spent – It's the estimated total amount of money you have to spend on your campaign, ad set or ads during its schedule.
People Taking Action – It's the number of people who have to take an action that was attributed to your ads.
Facebook Remarketing and Custom Conversion
Why a New Pixel?
There are basically two types of pixels available with Facebook, each with a different function:
Audience Pixel:

It is used to create a custom website audience.

Conversion Pixel:

These pixels have a dual function: Optimising advertising campaigns and tracking the conversions.
However, now Facebook has unified them both and named it as Facebook Pixel.
The Benefits and reasons behind to combine the pixel are:
Pixels are unified

– Now no need to put two separate pixels.

Loading is 3X faster – When there are too many remarketing or conversion code existing on your website/webpage, automatically the loading time or site speed increases which in turn gives a bad user experience and also affects the SEO performance.
Pixels can be shared

– You can easily email the pixels to anyone your software developer or the agency that you have hired to run campaigns for you.

Multiple Events tracking

– Earlier it was only possible to track five events like:
Checkouts
Registration
Leads
Key Page View
Add to cart
But now after the update and unifying you can track 9 standard events:
View Content
Search
Add to cart
Add to wishlist
Start the checkout process
Add payment information
Complete Purchase
Lead
Complete registration
Not just those nine, you can also create your own custom events. You can only make 20 custom from one account.
Custom events are those specific events that you want to track at any particular webpage of your website.
Pixel code contains two parts:
Event Code

:

It tracks the particular conversion on your page.
Base Code:

It tracks the visits to every page on your website
The base pixel is inserted in the header of the website so that it can be placed and identified on all the WebPages available on the website. By default, the event code present in it is "Page View".
The custom conversion code is required to be put on a particular page where the event is to take place and tracked. And event code needs to be altered based on your needs (meaning we have to replace the default event fbq('track','pageview'); by any of the below events). It's always present before the </script>.
It will enhance your campaign "Increasing the conversion on your website" by choosing the particular conversion required to get it converted more.
Custom Audience
Custom Audience is basically used to create an audience for your remarketing campaigns. It can be made on the basis of:
if we're selecting "Customer File," we have got the options to either import a customer list via. MailChimp or to prepare a file of your own customer data:
Further website traffic can be narrowed down on the following options:
Anyone visiting your website

People who are visiting your specific web pages

People who're visiting your specific web pages but not others: This is very helpful in remarketing campaign for someone who has visited my subscription page but not giving the details (mean he/she has not reached to my thank you page which comes after details submission). So, it becomes obvious to target the audience who have not subscribed to my subscription page and excluding those who have given me the details.

People who haven't visited the website in a certain duration of time.
Retargeting your Facebook page visitors on the basis of their action:
What do you want to use to create this audience?
Engagement audiences allow you to reach people who have previously interacted with your content on Facebook.
Optimize Your Facebook Advertising Strategy and best practices
1.
Choose the Right Target Audience
Let's begin with a reality check. Your Facebook ads become effective, only when you have well defined your audience.
But utilizing the power of Facebook's ad platform depends on your audience's demographics. Data metrics such as age, location, job roles, and interests are paramount to make sure that you're reaching the right prospects.
2.
Testing Different Facebook Ad Types
What sets apart Facebook from other ad platforms is its variance The freedom that brands have in terms of customization, providing seemingly endless possibilities for creative, compelling ads.
In addition to that, just about any given goal for your Facebook advertisement strategy is a fair game.
Looking to drive app downloads? Done.

Needing to show off your products and offers? Done.

Wanting to advertise your latest webinar or case study? Done.
And that isn't the end, we haven't scratched the surface of what's possible via Facebook advertising. Below are three of the most popular types of Facebook ads for brands:
Carousel Ads
Facebook carousel ads are reported to boast a lower cost-per-conversion and cost-per-click in comparison to static ads. They are interactive and mobile-friendly, creative marketers love to use carousels to show off products and tell stories.

Offers & Homepage Ads
Even with all the availability of Facebook's functionalities, brands always have the choice of keeping their ads simplicity.
Wanting to include a discount or promo code? Well, You Can. Traditional Facebook ads like one this from BottleKeeper can bring traffic from the social network back to your site. These kind of ads are helpful for retargeting, reminding people who had visited your site to engage with you again.

Video Ads
Video content marketing is escalating, specifically on Facebook where users spend three times interacting with video as compared to text or image-based content.
Big brands like SakeTrek noted a sudden increase in higher downloads and in-app purchases after running ads to promote their free trial via video.
3.
Tap Into the Power of Facebook Remarketing
Through remarketing campaign, Facebook renders ads to a custom audience of people who have already engaged with your brand prior based on a Custom Audience. These interactions may include:
People who previously visited your website

People who bought from your site in the past

People on your mailing list
4.
Running Budget-Friendly Facebook Advertising Strategy
Facebook ads are appreciated for their impressive CPC and its ability for the brands to define their own set of budgets.
However, unstrategically targeted campaigns which are left unchecked can swiftly get pricey. Facebook advertising cost varies based on the industry and size of your audience, also, based on the timing and optimization of your ads.
5.
Testing Your Ads
Talking of tests, never barge in your money into a campaign prior to running a test ad first. Facebook has made this easier with the built-in split testing system to outline what kind of ads have more potential to perform. In short, you're creating a variation of your ads to pinpoint which one is the best on paper.
Nonetheless, which elements of your Facebook ads should you test, anyway? Some options might include:
Ad types
Images
Ad Copy
Calls-to-action
Audiences
Offers, incentives, and lead magnets
Again, there are numerous variables at play here.
It's sometimes confusing to get in with analysis with your Facebook advertising strategy, but that's exactly what tests are for. If you have got another PPC or email marketing campaigns with you that has performed well, start that by using those strategies and pieces in your Facebook advertising.
Introduction to edge rank
EdgeRank algorithm is a collection of math operations with many different variables. It determines and decides which stories to be shown in each user's newsfeed depending on the content that they are interested in. What does this mean? 
Through this algorithm, Facebook decides and determines which feed will appear in each of your followers' newsfeeds.
How Does Facebook Algorithm Know What 

Are 

The Preferences For Each User?
The movement of each Facebook users is monitored and counted, from commenting on a photo to like a post or posting a video. All this behavior will show the algorithm in determining what you might be interested in or not.
After all, Facebook is a business and means business and its clients are all the profiles and pages. The main objective of it is to keep everybody satisfied ensuring that the clients receive only those information that is valuable for them.
How EdgeRank Works
As we have already reviewed the list of Facebook Algorithm updates, you must probably be wondering now which factors should you consider being more appealing to EdgeRank.
If you are willing to appear on Facebook News Feed and wanting to reach more users, then you must consider the following factors:
Affinity: 

It means that Facebook takes in to account more relevant posts from friends and pages that have more affinity with the user. Like, profiles from relatives, partners, or Facebook pages that users often visit.

Type of content

:

 

Facebook algorithm greatly considers the quality of the posts. This factor was included recently to resist against the infamous "clickbaiting". What should be done to increase engagement? You should focus on offering interesting content to your targeted audience without falling into easy clicks.
Among the contents good acceptance in the social network are:
Videos (the main objective is to compete against YouTube).

Live Transmissions (competing against Periscope).

GIFsImages
Interactions

:

 

Here you must focus on, bringing in to putting practice your originality, when you create a content. It considers those posts that have got a high percentage of Facebook engagement. The order of relevance is as follows:
The number of times a content has been shared.
Value of comments received
The number of Likes and Reactions on a post.
Nonetheless, if you have got a lower number of followers on your Facebook Page, you are in a good position as the more followers you have, the lower the engagement on your posts going to be.
Like, if you have 15,000 fans but none of them are interacting with your content, the impact on the EdgeRank algorithm of your Fan Page will be negative and will affect your ranking.
Present: 

Time factor is important for this. The most recent publications will be appearing and be considered in the latest newsfeed on your followers' page.
Be cautious though, this changes when we consider promoted publications with Facebook Ads or when we talk regarding the memories that Facebook brings with 'On This Day'.
To become more appealing in this social network, it's very important that you must not exceed the maximum of 5 daily publications.
Variety:

 The social network giant enjoys and loves that Pages get the most of the variety of content types. Try to change your content and you will succeed: Photos, videos (including live videos), GIFs, events, link shares, etc.
Algorithm updates of Facebook 
We would recommend you to consider these updates adherently when you are planning your publications.
Newsfeed prioritizes popular publications (2009):

This change was among one of the most relevant to date. Facebook first began to consider the most popular posts: the more attractive the post is, the higher it is to appear in Facebook News Feed.

Design (March 2013):

The social network changed its News Feed design making it more visual and attractive to users.

Instagram (April 2014): 

Instagram became part of this social network giant.

Clickbait Control (August 2014):

 

Facebook is against click-baiting, or in other words, easy ways to get clicks. That's why in 2014 Facebook began refraining publications that used striking headlines that encouraged users to click on them. Although, this type of publication had a high bounce rate.
Video Update (September 2014): 

The social network rewarded those publications that used their videos, that's why they didn't prioritize pages or profiles that posted a YouTube link.

News Feed prioritizes friends' posts (2015)

:

 

After some users' complaints, this update started prioritizing posts from friends over other publications coming from other pages.

Support for GIFs (June 2015): 

From this date, the use of GIFs increased on Facebook.

Harder restrictions towards Clickbait (August 2016)

:

 

With this new update, Facebook can recognize and classify "clickbait" headlines like a spam filter. This change was forced after thousands of complaints from users.

Facebook Stories (January 2017): 

It will probably sound familiar from other social networks like Snapchat or Instagram. The purpose of these "stories" is to allow users to share photos and videos that will disappear from a newsfeed after 24 hours. It expands the reach for both profiles and Facebook pages.

News Feed prioritizes videos (January 2017

):

 

This new update considered prioritizing those videos content on the timeline that engaged users. Like, if a user watches all or most of a video, that video or similar will be considered or prioritized over other videos that are not able to captivate their audience.

Facebook "reactions" are valued more than "Likes" (February 2017):

 

Facebook will give more weight to Reaction than a Like. Facebook understands that a user leaving a reaction on a post highlights that the person gave more value and time to the content than if he had simply liked it. However, this algorithm update doesn't discriminate between positive or negative reactions, the value is the same.
We at Vitsmuni focus on creating values for our readers. Bringing the most out of our articles. We will soon bring the advanced version of this guide. Also, Vitsmuni would like to appreciate and thanks to Mr. Anupam Srivastava for his commitment and exhilarating efforts in creating this "A Definitive Guide to Social Media Marketing – Facebook SMM". 
We'll meet soon and bring more interesting guides to you. Till then enjoy our other articles.